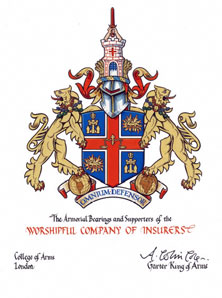 Coat of Arms
The achievement from the Garter Principal King of Arms was presented in 1980.
The achievement symbolises the Company, the purpose and range of insurance and those who in their various institutions are engaged in its practice.
The motto translates as "Protector of All".

The official Blazon reads:
Arms:
Azure a Cross Argent thereon another Gules charged with a Pair of Scales Or between in dexter chief and sinister base a Drag Anchor enfiling a Mural Crown and in sinister chief and dexter base a Salamander Gold in flames proper.
Crest:
On a Helm with a Wreath Or and Gules a Tower Argent masoned Gules with a cruciform window also Gules and having three portals the centremost with portcullis raised Azure in the others a Garb Or and issuing from the battlements two Cubit Arms chevronwise the hands proper holding aloft a Sword the pommel ringed Gules
Mantling: Gules doubled Or.
Supporters:
Two Lions reguardant. Or gorged with a triple Chain Gules, Azure and Vert all from a Ring Gules each resting the interior paw upon a Terrestial Globe Gold one depicting the land masses of the American continents the other those of Europe and Africa proper.
The cross on the shield is the red cross of the City of London, home of the Company. The scales represent fairness, equity and the scrupulous weighing of risks that is a feature of all branches of insurance and, incidentally, refers also to links between the Company and the Chartered Institute of Loss Adjusters. The drag anchors symbolise marine insurance and stress the connection between the Company and Lloyd's. Their stocks are encircled by mural crowns representing the walls of the City of London. The salamanders represent fire insurance and commemorate the British Insurance Association, in whose own arms a salamander appeared. The colours of the shield and its charges, red, white and blue, suggest the nationwide extent of insurance.
The crest that surmounts the helm is formed by a tower (for the City of London) with the portcullis (safeguards), wheat-sheaves (life assurance, farming insurance and the arms of the CII), and a sword (that of St Paul, patron of the City, for support of the City and its Institutions).
The supporters are rampant and watchful lions poised upon terrestrial globes, representing the worldwide protection that British insurance gives. The different kinds of security and reinforcement are suggested by the coloured collars of chain that the lions wear.
If you would like to find out more about our membership please click here.
Further information on membership can be obtained from the Clerk to the Company at