Claire Burrell installed as second lady Master
Written by David Worsfold on 12th October 2023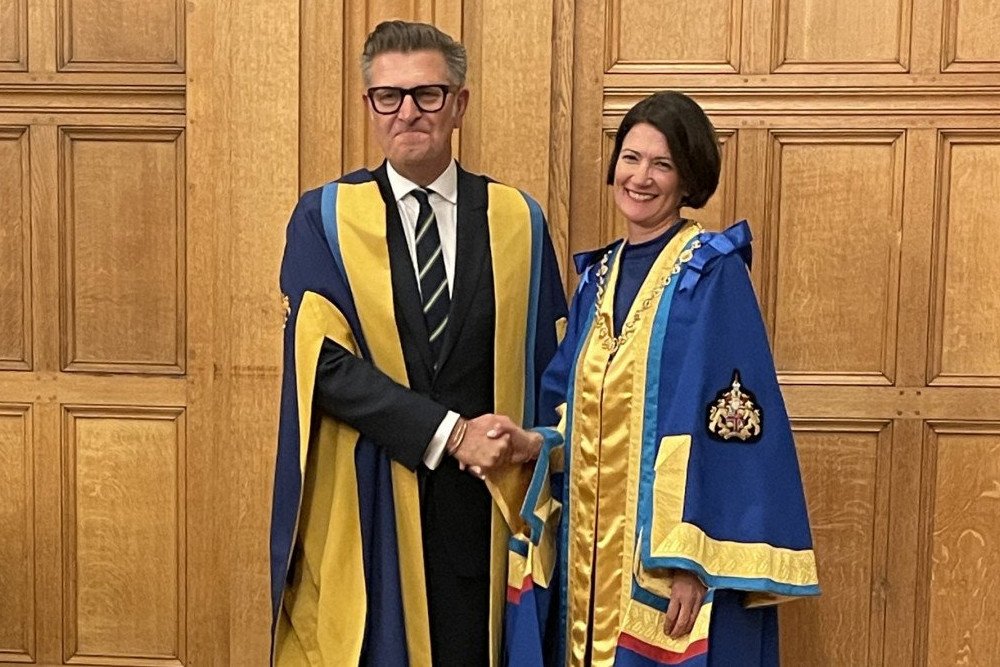 Claire Burrell was installed as the 44th Master of the WCI at Common Hall last night and unveiled her twin themes for the year – Accessibility and Life-long Learning.
She said she is aiming to "open doors" on the industry which she said is "undersold and misunderstood".
Her twin themes will enable the WCI "To educate all on the vital importance of our role in the global economy and that of the City of London, perhaps demystify some of the art and mystery of insurance.
"We have an opportunity to place the Livery at the heart of our profession as a go to destination, improving accessibility to our industry."
The Master announced that the Company has created an Education Working Group "to continue build on the brilliant work delivered through our current committees and charities".
"We are developing a long term strategy that will demonstrate how we support lifelong learning for our members and therefore make our profession naturally more accessible."
Karl Jarvis was installed as Senior Warden and Sara Fardon as Junior Warden (pictured with the Master).
Common Hall also approved several new appointments to the Court and its committees:
Court members • Samantha Ridgewell •Alan Punter • Mark Johnson • Maxine Goddard (pictured left to right)
Chair of Trustees • Katie Wade
Treasurer • Ian Clark
Chair of Livery Committee • Alan Punter
Financial Services Group Lead • Mark Johnson
Chaplain • Fr James Titley, Guild Vicar of St Lawrence Jewry and Chaplain to the Corporation of London
The Master also unveiled her Master's Charity – Skylarks, a London-based charity providing activities and therapies for children with disabilities and additional needs.
Outgoing Master Nick Dunlop said the Company continued to grow, attracting new members from a diverse range of backgrounds. He praised the work of iWIN (Insurance Women's Inclusivity Network), iNED (Insurance Non-executive Directors forum) and iEngage, as well as the charity trustees and those who have served the Livery over the last year.
He said the profile of the Insurers in the City has never been higher:
"It's been remarkable to be a Master in the year that one of our own, Nick Lyons, has been Lord Mayor. Its opened doors and experiences that may not have been accessible to others but we are now about to experience a period where we will reach new levels of exposure. We now have simultaneous Sheriffs which means that within five years, we should have two more Insurer Lord Mayors."
• New robes for the Master and Clerk were also unveiled at Common Hall (pictured with the Beadle who will also get new robes in the New Year)
• Common Hall, the Company's annual business meeting, was the first event the WCI has held at Insurance Hall since it was re-opened following its sale to the City of London Corporation by the Chartered Insurance Institute.