New Clerk Appointed by Court
Written by David Worsfold on 17th July 2020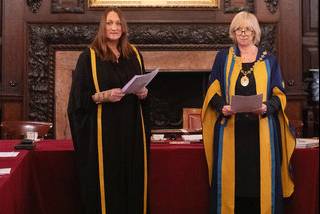 We are very pleased to announce that Victoria King, our Acting Clerk, has been appointed as the new Clerk to the Company.
Victoria excelled in the rigorous selection and interview process against several very impressive and highly skilled candidates. This was conducted by a sub-group led by the Master-Elect, David Sales. Victoria was appointed and elected to the position at the Election Court meeting held on 16 July by Zoom.
Talented and Dedicated
The Master, Rosemary Beaver, said "I am delighted that the Company will move forward with such a talented and dedicated Clerk serving the Company. I have been privileged to work closely with Victoria over the last few months and I have been impressed by her skills and overwhelmed by her commitment to the WCI. I know she will be a superb Clerk, serving all our members and supporting us as we move forward to 'Invest in the Future' of our Company."
David Sales, Master-Elect said "Victoria was the stand-out candidate and we had no hesitation in recommending her appointment to the Court. She has absolutely the right skills and knowledge to take us forward and she set out a powerful vision for the future of our Company.
"In particular, I look forward to working with her as we strive to find the best way of emerging from the current challenging circumstances. Her initiative, commitment and positive approach to finding the most appropriate solutions will be invaluable".
A Modern and Dynamic Company
Victoria replied by saying "I feel very privileged to be trusted to take this modern and dynamic Company forward.
"The Clerk represents the Livery in the City and I will endeavour to build positive relationships with other Liveries and the City Civic and make sure we are seen as a Company that is a team player in the wider community. We must be known as a progressive and energetic Company but one that still upholds the important traditions of the City of London. One of my goals is for the Worshipful Company of Insurers to be used as a template for the other new Livery Companies and Guilds being formed.
"I would also like the relationship between the Clerk's Office and the wider membership to be honest and transparent and for you all to feel that you can trust my integrity and judgement. I am very aware that we are fortunate to have a very experienced and knowledgeable membership with a wide range of people I can listen to, learn from and on occasion, seek guidance from.
"I will work collaboratively with the Master, Wardens, Court and Committee Chairs, guiding and advising where necessary to enable us all to make the best decisions for the future of the Company.
"I am very honoured to have been chosen to become your next Clerk and to be able to represent the Livery in the future and my team and I very much look forward to getting to know you all better.'
Congratulations
We offer Victoria our sincere congratulations, as well as our gratitude for her loyal service throughout the uncertainty of these last few months, and all look forward to working with her in the months and years ahead.
The top photo is of Victoria with the Master taken at our last formal event before lockdown in March. As Acting Clerk, she managed and arranged the Court meeting, clothing ceremonies and Winter Luncheon to create a wonderful day of memories for the Company.